Stepping out of the salon with freshly colored, vibrant, and shiny hair is fantastic. But over time, that brilliance fades, and the once-bold hues begin to look a bit dull and may even reveal the gray hair you've been trying to hide.
But gray hair should no longer be a cause for concern, as many people are opting now for silver-gray or platinum shades to rock the silver fox look.
Whether you want to hide it or flaunt it, how do you keep your gray hair looking fabulous? This is where the color-depositing conditioner for gray hair steps in. These nourishing and tone-enhancing conditioners usually include purple pigments that help counteract any yellow or brassy tones in gray hair and all hair types.
Curious about color-depositing conditioners for gray hair? Keep reading to understand these products and discover the best ones for your hair type.
What is a Color Depositing Conditioner?
Similar to color-depositing shampoos, a color-depositing conditioner for gray hair is packed with pigments that can jazz up, tone, or enrich your existing color while providing added moisture and softness for your hair.
If you've got blonde hair, a purple color depositing conditioner is armed with violet pigment to offset any brassiness and gray hair and give your hair some extra care.
Plus, a coloring conditioner can sometimes offer a temporary color change without the full commitment of permanent hair dye.
But if you're trying out different colors with a color-depositing conditioner, how long the color lasts depends on the specific product, your hair's ability to absorb, and how often you use the product.
Should You Use a Color Depositing Conditioner for Gray Hair?
When it comes to covering gray, a color-depositing conditioner might not be your top choice. Sure, it can add a tint to the gray, but it won't camouflage it or seamlessly blend it with the rest of your hair as a permanent dye would.
Gray covered with color-depositing conditioners tends to stand out as a different hue, and it might fade faster due to the unique porosity of gray hair compared to colored darker hair.
However, some people enjoy the highlighted effect these conditioners give to gray strands, so if that's you, then you might want to give coloring conditioners a try. But if you're not as keen, you're better off with traditional hair dyes, especially if you have dark hair or brown hair. It's all about personal preference.
The beauty of a color-depositing conditioner for gray hair is that it's not a permanent deal, and it won't harm your locks.
How Do You Apply a Color Depositing Conditioner?
The cuticle, also known as the outer layer of your hair, can be quite thick and strong, especially in gray hair strands. This thickness makes it challenging for moisture, hair products, and color to penetrate.
Depending on hair type, how much you bleach, use heat styling tools, or bask in the sun, your hair cuticles might already be a bit more open and prepared to take in semi-permanent color — the ideal time to use a color-depositing conditioner.
Traditional hair dyes use harsh chemicals like heavy alcohol or ammonia to forcefully open the cuticle for color absorption, causing damage to your hair.
But since oVertone's color depositing conditioner for gray hair is semi-permanent and crafted with hair-friendly, vegan ingredients, it doesn't include these harsh chemicals. That means that even though gray hair coverage isn't that great, you still get a non-damaging alternative for achieving a vibrant hair color.
If you want to enhance gray coverage, remember to do the following:
Open up your hair cuticles.
Opening the cuticle can roughen up your hair's outer layer, ensuring the color will seep into your hair.
To do that, pre-wash with a clarifying shampoo. Afterward, apply the coloring conditioner to clean, ideally blow-dried, dry hair. Make sure to completely saturate your strands with the conditioner.
Cover your hair with a shower cap. Then, blow dry on medium heat. This heat will aid in further opening the cuticle, allowing the hair to absorb more pigment.
Don't skimp on maintenance.
Maintaining your new color is crucial once you've reached the desired shade. For daily upkeep, after each shampoo, use a daily conditioner in your chosen hair shades.
To keep your color-treated hair vibrant and enhance hair hues, use the oVertone coloring conditioner at least once a week or more frequently as needed, especially based on your hair-washing routine.
If you're seeking a convenient all-in-one package for color and maintenance, Healthy Color Duos are a great option. Each set includes a full-size coloring conditioner and daily conditioner in the shade of your choice.
You should also consider grabbing a sulfate-free color-depositing shampoo to keep your locks vibrant, inviting healthier hair growth, and working hand-in-hand with your conditioner to achieve and sustain your hair color. After all, traditional shampoos with harsh chemicals might strip away your hair's natural oils and mess with your hair color.
Remember, every hair type is unique. Finding the right brand and coloring frequency through trial and error can make your color last as long as possible while covering your silver hair.
Related posts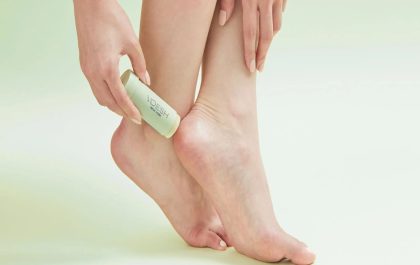 Introducing the Ultimate Heel Balm
Cracked heels can be both uncomfortable and unsightly, affecting your overall well-being and Confidence. Fortunately, there's a solution that can…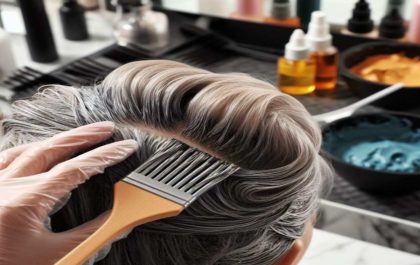 How To Use A Color Depositing Conditioner For Gray Hair
Stepping out of the salon with freshly colored, vibrant, and shiny hair is fantastic. But over time, that brilliance fades,…