The Boho furnishing style is the new trend in the interior. He thrives on contradictions and combines dazzling colors with natural accents and materials. What initially sounds like it doesn't go together complements each other perfectly in the boho style and not only inspires hippies and nature lovers.
The origins of the Bohemian style of living go back to the 19th century. At that time, there was a radical change in society. Free poets, artists, and philosophers rebelled against the stiff bourgeoisie and thus created the so-called bohemian movement. This movement was part of lifestyle differentiation, including the boho interior style.
Central Elements Of A Boho Interior Design
What is needed for the boho style is wood, rattan, velvet, colorful fabrics, and a lot of boho decorations made of natural materials. Oriental patterns are also popular. Typical elements for boho-style decoration are boho cushion covers, bohemian wall decorations such as tapestries, woven baskets for plants, and knotted macrame decorations with fringes—natural wood decorations such as teak decorations round off the boho-style furnishings. Exotic plants and palm trees should not be missing from the holiday feeling of the bohemian interior. These are particularly beautiful in a seagrass plant basket.
Make Boho Decoration Yourself
Especially with the Boho furnishing style, you can save money on decoration. The boho style invites you to upgrade your old pieces of furniture and get hold of vintage parts at flea markets. How about, for example, a bed made of Euro pallets, boho decoration for the wall made of self-knotted macrame, or old upgraded pieces of furniture? You will find numerous instructions for beautiful macrame flower pots or wall decorations online. Usually, you don't need a lot of materials for this, and everything can be found easily in the hardware store, for example.
Boho Chic Decor
Today, the boho furnishing style has become increasingly chic and relies more on stylish natural elements in classic colors than the combination of colorful patchwork parts. The boho style invites you to experiment and stimulates creativity.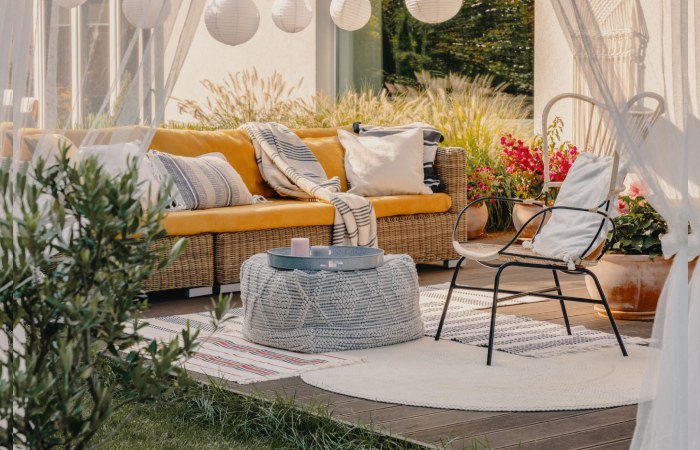 Since the base of the boho interior is a mix of different decorative elements, and natural colors characterize the boho chic, it goes particularly well with the chic Scandinavian country house style. The light colors and precise lines form a nice contrast to the bohemian living style. The country house style also relies on natural materials, which perfectly complements the bohemian chic furnishings.
Bohem Style – The Boho Style Living Room
The boho style characterizes its imperfection and thrives on combining different textiles and materials. The boho furnishings in the living room reflect a personality and therefore go well with personal accessories and decorative details. With the boho style in the living room, you can let off steam with boho cushion covers, teak decoration, plant baskets made of seagrass, macrame decoration, and much more.
Boho Cushion Cover
You can make yourself cozy on the couch. You are welcome to mix boho-style pillows with different patterns as long as they match in color. The macrame pattern is typical for the boho chic in the living room. You can find beautiful macrame pillows at onvacay.de, for example. The Boho cushion covers are lovingly hand-knotted for you in Bali, giving them their unique charm. They each have cute fringes at the ends, which are also typical of the boho style. They can be beautifully arranged on your sofa or armchair and bring a little holiday mood to the boho living room.
Teak Decoration
Natural teak is perfect for boho-style table decorations. With the rainforest wood, you can set beautiful natural and rustic accents. At onvacay.de, you will find great wooden bowls made of teak and teak plates for decoration. You can use the large teak bowls as a fruit basket or bread basket in the kitchen. The small teak bowl is ideal for snacks.
You can use a large, round teak plate for your boho-style table decorations. There is enough space for candles or vases on it. Feel free to combine different candles and vases, so the look doesn't look too perfect.
Plant Basket Seagrass
Plants are a beautiful natural boho style decorative element and give the boho style of furnishing an exotic atmosphere. You will also find beautiful planter baskets made of seagrass in different variants at onvacay.de. The plant baskets are available in various sizes to find the right plant basket for every living room plant. They make the bohemian living room look more comfortable and also make a good seagrass basket for your laundry or a blanket.
Macrame Ideas – Macrame Hanging Basket
Of course, macrame decoration and the popular macrame hanging basket are typical of the Boho furnishing style. You can either knot them yourself or buy them ready-made. The macrame plant hanger is perfect for small spaces or dead corners where there is no space for large palm trees. With the macrame flower pot, you can hang your tropical plants under the ceiling and give your living room that specific.
Conclusion
There is undoubtedly the right thing for every boho bedroom decoration. A little tip – our throws for sofas with an oriental flair are also great in a boho-style living room. The unconventional artistic milieu found its inspiration in the gypsies from Bohemia, who roamed around with their colorfully mixed wagons.
Related posts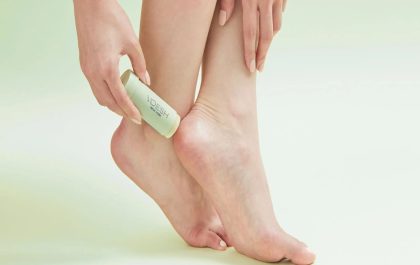 Introducing the Ultimate Heel Balm
Cracked heels can be both uncomfortable and unsightly, affecting your overall well-being and Confidence. Fortunately, there's a solution that can…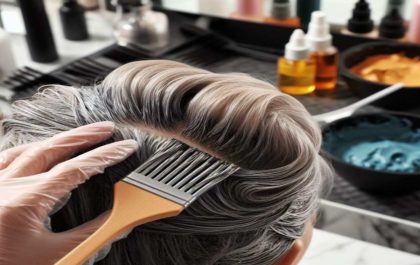 How To Use A Color Depositing Conditioner For Gray Hair
Stepping out of the salon with freshly colored, vibrant, and shiny hair is fantastic. But over time, that brilliance fades,…